Lambert et Fils - The Many Shapes Of Light
Based in Montreal, Canada, Lambert & Fils is a collaborative lighting design studio founded in 2010 by Samuel Lambert. After a career in the visual arts and film editing, Samuel chose design and craftsmanship soon after the birth of his son, as a nod to his own childhood spent in the Eastern Townships of Quebec, where he often assisted his father, a potter. A full-circle moment for Samuel, which also explains the company's name (in French, Lambert & Fils means Lambert & Sons).
Starting his business alone in his small Beaubien street shop in Montreal, Samuel succeeded over the course of a few years to mold a creative yet rigorous studio, alongside a diversified team of young talents. Today, Lambert & Fils employs close to 55 people and occupies a spacious 21 000 square foot studio. Everything is designed and assembled in house, for great precision and durability of the product.
Through its exploration of new design technologies, Lambert & Fils investigates the many shapes of light—meditating on voids, volumes and the importance of matiere premiere—materials as a point of origin. The studio has created installations around the world, taking over display windows for Paris Design Week, hosting a six-day pop-up café for Milan's Fuorisalone, and devising a grand floral installation at Stockholm Design Week.
Like the studio itself, these explorations trace where the unexpected meets the universally poetic—and where humility meets complex design.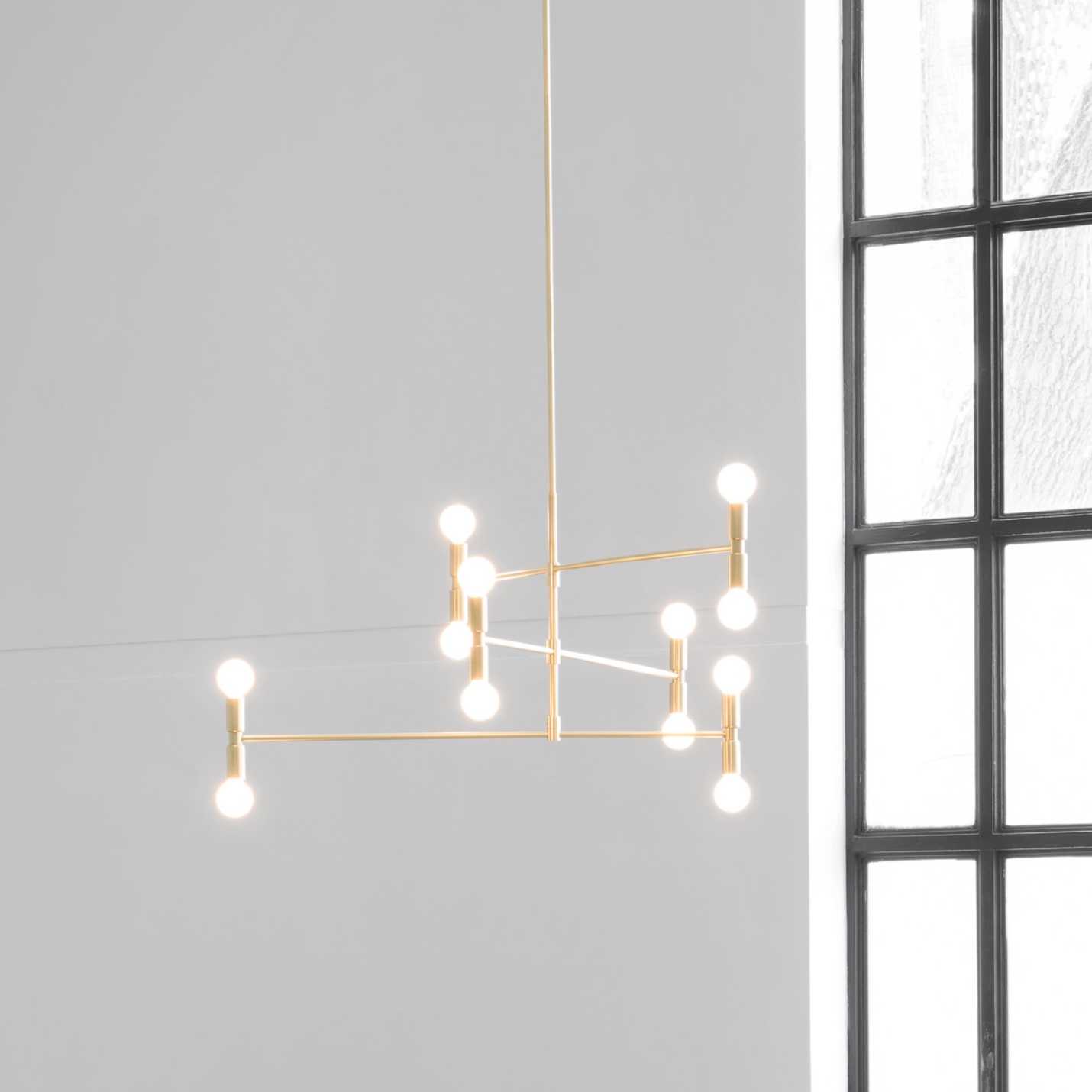 The Dot Collection combines the directness of exposed, spherical bulbs with the rich materiality of brass. Focused, geometric compositions contain these two features, balancing line, surface, and luminous points. The result is a collection of lamps based in the reflectivity of brass—lamps that are both atmospheric and firm.
The Cliff Collection brings together the best of Lambert & fils Studio in its use of many signature elements. Natural brass and matte black rods provide structure for lamps with elegant shades and a range of spherical bulbs. The finishing and connection details complete this full collection of lamps, giving character and nuance to their robust, functional forms.
The Laurent Collection distills the milk globe to its essential relationship between circle and sphere. A series of thin forms compliment the Laurent globes—forms that carve through space, moving between line, surface, and volume. These forms combine in endless patterns, making it possible for an installation of Laurent lamps to inhabit any space with subtlety and quiet strength.
A collaboration between Lambert & Fils and Guillaume Sasseville, Mile offers a variation on the linear suspension, pared down to its simplest, asymmetrical expression, with two lines floating in surprising equilibrium. Direct and indirect light are separated by a 90° pivot, thus marking out space with light. A play on contrasts, Mile is part art installation and part utilitarian light. The use of linear LED technology and the wires clamped into the structure add to the weightless, almost levitating feel of the lamp.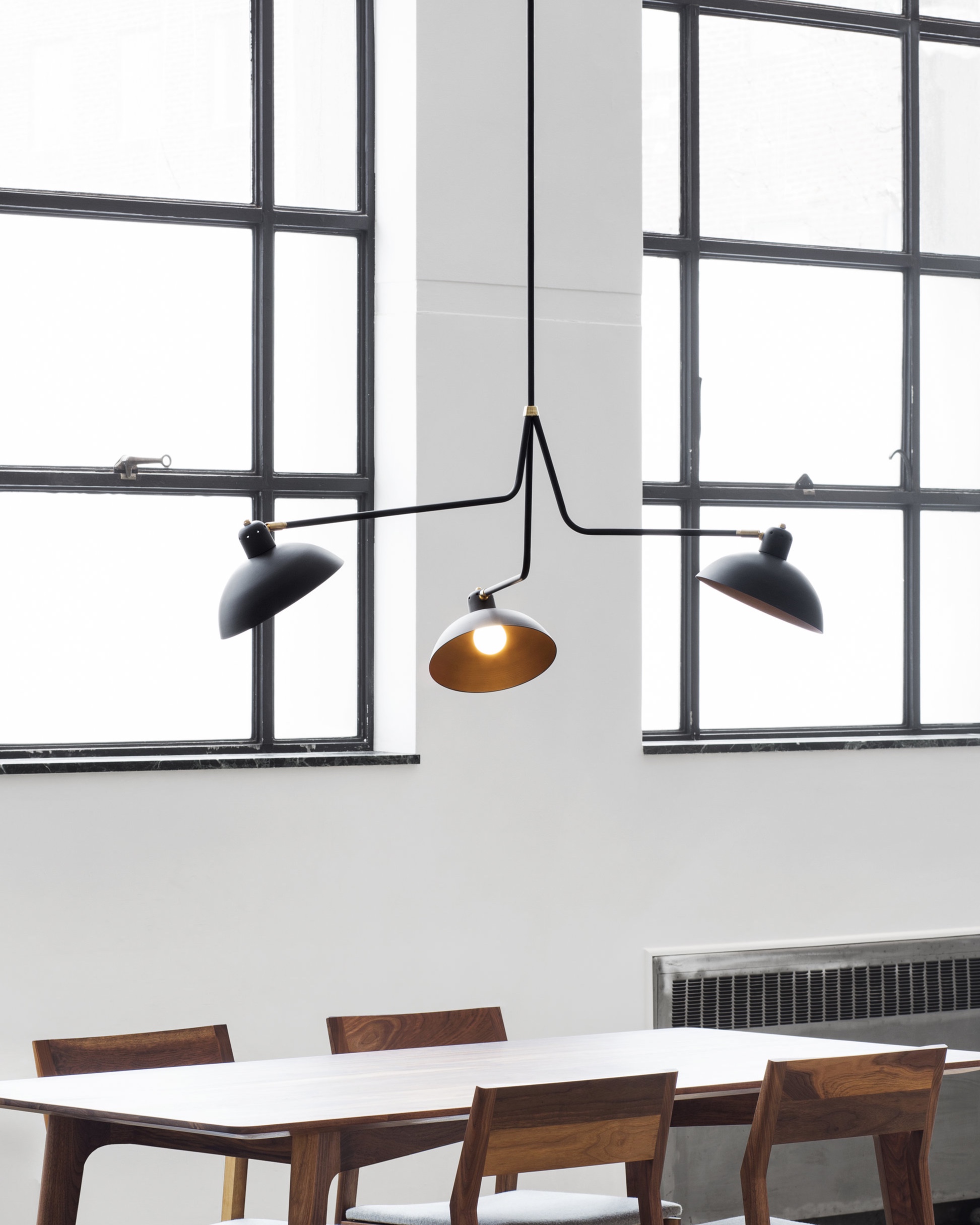 The main feature of the Waldorf Collection combines an open hemispherical shade with a cylindrical socket cover. This composite shade is deployed in suspension and wall-mounted configurations with natural brass and powder coated rods. Swivelling shades and other moving parts add functional flexibility to the crisp, streamlined forms of this collection.
The Beaubien Collection's strong black lines bend in and out of space, moving effortlessly between simplicity and ornamentation. Round and cubic brass connectors complete the lamps' structures and add a rich material contrast to the powder coated rods. The collection's industrial and graphic aesthetic is imbued with a palette of influences, from traditional Chinese screens to the Memphis movement. Each influence strengthens the collection, creating nuance within its timeless character.